ABOUT US
A SEA full of flavours, textures and spices awaits you in Assagao Goa
A voyage for your senses, Saurabh Anand's latest venture into the culinary world is the most beautiful translation of flavours, textures and unadulterated experiences. Located in a striking 1800 Portuguese villa with contemporary food and drinks, SEA is inspired by the travels of its curator and his culinary journey over the years in south east Asia, specially the spice trade route regions. Taking from experiences of his famed restaurants in NYC – Moti Mahal, Awadh, Bhatti Indian Grill and also Masala House in New Delhi, this is Anand's personal ode to the coast – and its untethered beauty.
An expression of understated marvel, Anand brings forth his lens and urges you to take a peek into his fascination for vibrant flavours. Read More
High ceilings lit by chandeliers, delicate arches and positive vibrations resonate with the vision that Saurabh had when he first thought of this food lovers haven. Pale yellow floors, tiles in soft shades of green and the use of natural wood and cane perfectly complements the cuisine and contributes to  a well-lit and happy environment. Wooden tables and benches complete the design with an outdoor seating so that the midnight blue sky and stars can be the perfect companions to the patrons.
Attempting at bringing his perception of  coastal food to the patrons, SEA stands out in its humble effort at perfection – of simplicity. "Characterizing the heart of Assagao- Goa, SEA aims at creating an honest and welcoming experience that lures locals and visitors alike with its seafood and southeast Asian cuisine with a young and airy vibe. Aiming to curate costal food with a menu crafted to offer a multi-course experience of unadulterated and simple flavours, I am excited to open up a delicious  world that exemplifies my love for great food" says Anand.
With a wholesome experience of shareable small plates, a visit to this restaurant is sure to be a treat for the senses. A tasteful ambience coupled with dishes that will transport you, SEA is an attempt to epitomise love for flavours. Crowd favorites such as lotus stem with tamarind chilly, onion paniyaram, spicy thai basil chicken and ghee roast black pepper mutton promise to get you started under the small plates section with perfection in every bite. The Kerala prawn thoran, vietnamese prawn spring rolls and stir fried mushrooms with bok choi are on the owner's list of absolute must haves  while SEA Signatures offer thai garlic prawns, crab in Singapore style chilli curry and cumin lamb briskets for those who want a taste of authenticity. Also present is a selection of grills with options ranging from eggplant, tofu, lamb chops, fish and even pork ribs for those who are counting the calories. Ensure to leave some room for the Asian Panacotta which is a burst of Asian flavors on your palate or the Sago Piak that is recommended by Anand himself. The Badam Payasam and Pineapple Delight are safe choices for those who prefer to go straight for the dive and know how to perfectly end a great meal.
Quenching your thirst is a bespoke beverage program reflecting modern mixology through techniques that will ensure you raise a glass, or even two. Fasten your seatbelts and be prepared for a coastal adventure as you sip on Chrysanthemums infused  gin, home-made beetroot wine,  smoked paprika cordial or even  blue-coconut sorbets! Be sure to order the Dr. Haldi or the Cactus alert that are an example of just how fancy your drinks could get! Under mixologist Evgenya Prazdnik (top 3 world best bartenders in 2017), the philosophy of a signature cocktail menu comes into play to rediscover native coastal treasures such as spices, herbs, fruits and botanicals. 
"The hospitality and food and beverage industry is forever evolving and believing that being a master of one segment gives you an advantage that no-one else could have. Bringing my passion of cocktail making and drink experiences to SEA, I am enthusiastic about opening up a whole new world for our guests. My favorite drink is the Vitamin SEA made from Tequila, because who doesn't love vitamins!" says Evgenya Prazdnik.
Come, dive into the deep blue sea and prepare to be mesmerized by the casual chic setting, light ocean breeze tickling you, palm trees forming a comforting canopy over your head and the calming sound of the easy goan life translating into a cuisine that personifies the Asian golden triangle.
GALLERY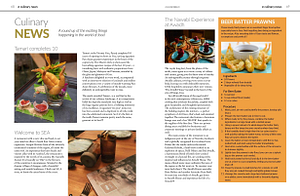 Welcome to SEA
A restaurant with a new vibe and food, to … Read More
Contact Us